2022 Kansas City Chiefs 3ft x 2ft Champions, LED Neon Sign, Man Cave, Sports Bar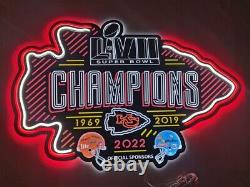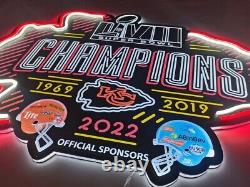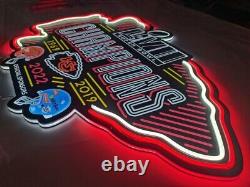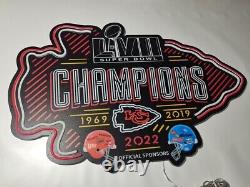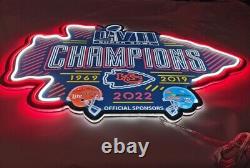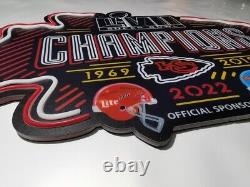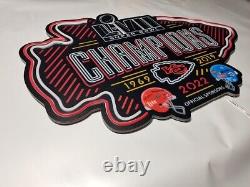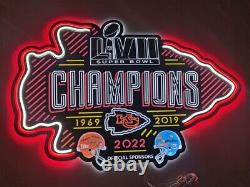 ALL SIGNS ARE MADE TO ORDER IF NOT IN STOCK. Excellent Quality: Made from high-quality acrylic, the LED Light Box sign offers outstanding optical properties that is perfect for making your business sign visible from a distance.
These naturally UV printed stable LED Light Box signs are carved by the latest 3D, surface and line engraving technologies make the signs attractive from all directions. Color & Size: We have a variety of LED Light Box Signs for you to choose from. You can get yourself the team that will enhance your home or business and complement your signature home or business décor. We offer many shapes and sizes to choose from, 3ft x 2ft (91.44cm x 60.98cm), 2ft x 2ft (60.98cm x 60.98cm), 1.4ft x 2ft (420mm x 610mm), 1.9ft x 2ft (580mm x 610mm), so you can pick the one that works best for you. Perfect for All Homes and Businesses: Excellent for displaying in your shops, pubs, bars, restaurants, rooms, and practically anywhere you'd like, these eye-catching attractive signs have infinite uses for attracting your customers and making your business stand out in the crowd.
Also, it is undoubtedly a way to have the man cave of the century. Energy Saving & Durable: Thinking of saving costs? We have you covered there too. The highly efficient LED Light Boxes offer a long-lasting useful life. Equipped with the highest quality power-saving LED lights, the lights do not only glow brighter but make you save more than 90% of your power consumption using only 12 watts.
Easy Installation & Use: The LED Light Box Signs are super handy and user-friendly because of their easy installation feature. There provided with a 120 (V) external LED driver.
The length of the wire and cord is a combined 7ft (1.8 meters) making it super easy to use. Flourish your home or business with Unforgettable Essentials LED Light Box Signs that are brighter, safer, energy efficient, and require hardly any maintenance. Our LED Light Box Signs can serve many purposes and lasts comparatively longer. The signs are also visible during the day making it easy to attract customers whether its day or night. Its cost-effective features can save you up to 90% on energy consumption.
The LED light box signs are great for kids, teens, boys, girls, seniors, women, or man caves. This sign is a fantastic way to show off your teams' spirit in a unique way. You can hang it on the wall with the provided wall anchors to accent any rooms décor. It is great for kids' rooms, barbershops, hair salons, office, as a gift and much more.
The material modules consist of acrylic UV printing, led neon lights, flex neon, and PVC. The power supply input is 120 (V), The output is 12 (V) DC, making it perfect to use for extended periods, and the output current is 1 (A). Product certifications are CE, FCC, and ROHS. The shells fireproof raw materials which makes it safe and echo friendly for all users.
You can return the products in original package within 14 days after. Messaging system with any questions or concerns.
We reserve the right to refuse. Holidays within the United States. We do not accept P. BOXES - PLEASE PROVIDE A.