Kansas City Chiefs 2023 Super Bowl Bye, Eagles, Bye Front Page Framed Print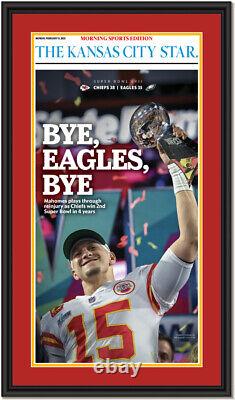 The My Team Prints Difference. We are one of the only places that you will find real wood frames, real glass, and framing experts with decades of experience. Most of our competitors will sell you an aluminum or composite frame. 16 in x 25 in. Choice of standard paper mat, or suede upgraded mat.
Prints are not available unframed. The print images on our website don't do justice to the actual finished piece that you will receive. Because though the print images shown on our website are taken from the actual print or photo, the mat and frame shown around the image is an illustration created in Photoshop meant to represent the actual mat and frame.