Kansas City Chiefs 2023 SUPER BOWL CHAMPS Framed Original Newspaper! 2/15/23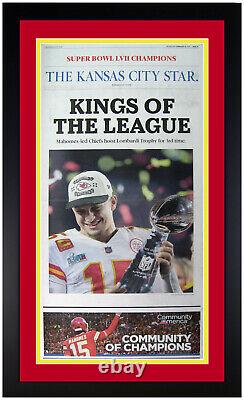 THIS IS A SPECIAL COMMEMORATIVE CHAMPIONSHIP PAPER! Framed Original Front Page From the Kansas City Star! Newspaper date: February 15, 2023!
Professionally framed at our custom frame shop. Double Matted with acid-free mat boards in the Kansas City Chiefs team colors! Paper is dry mounted to foam board in a vacuum press - nice & flat! High quality Solid black wood frame molding. W/ clear UV stabilized plexiglass.
Framing newspapers isn't just something we do, it's our specialty! Finished frame size: 17x28 inches. You can count on quality craftsmanship.
We custom build every frame we sell! Check out our store for other championship newspapers! If you'd like this sooner or sent to an alternate address just let us know and we'll see what can be arranged.
We strive to provide the best quality items at a reasonable price.