KANSAS CITY CHIEFS Super Bowl Championship Belt NFL 4mm Brass White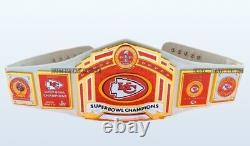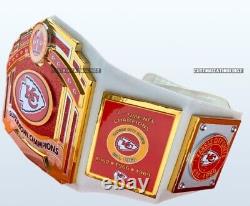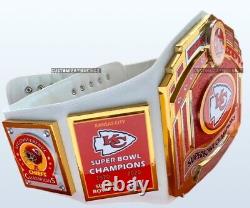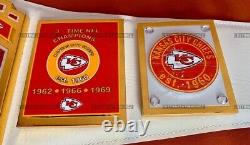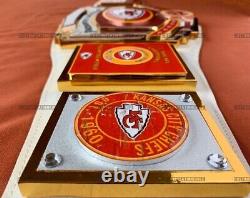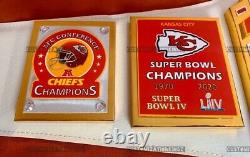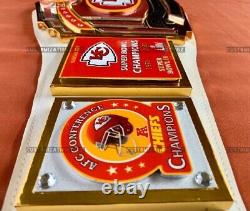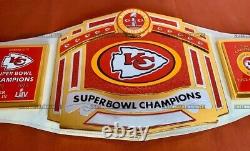 Stand Out in Style with the Kansas City Chiefs Super Bowl Championship Belt! Premium White Brass, 4mm Thick Plates. Elevate your game day attire with the stunning Kansas City Chiefs Super Bowl Championship Belt in a striking white color! Meticulously designed to capture attention, this belt is the ultimate accessory for passionate NFL fans who want to make a statement. Crafted from premium white brass, this belt features 4mm thick plates that exude durability and superior craftsmanship.
The intricate etched artwork proudly showcases the Kansas City Chiefs' historic Super Bowl victories, allowing you to display your team pride with unmatched style. The included leather strap adds a touch of elegance, while the generous 50-inch length ensures a comfortable and adjustable fit for fans of all sizes.
The convenient snap back closure provides a secure and hassle-free experience, allowing you to focus on celebrating your team's success. Rest assured, your Kansas City Chiefs Super Bowl Championship Belt will arrive swiftly, ready to make a bold impression. Unleash your passion and showcase your loyalty like never before with this eye-catching championship belt.
Whether you're heading to the stadium, hosting a watch party, or simply wanting to display your dedication, this white brass belt is guaranteed to turn heads and ignite conversations. Be a part of the Chiefs Kingdom and secure your Kansas City Chiefs Super Bowl Championship Belt today. Join the ranks of devoted fans who proudly commemorate their team's triumphs. It's time to embrace the Chiefs' legacy and show the world what it means to be a true fan!